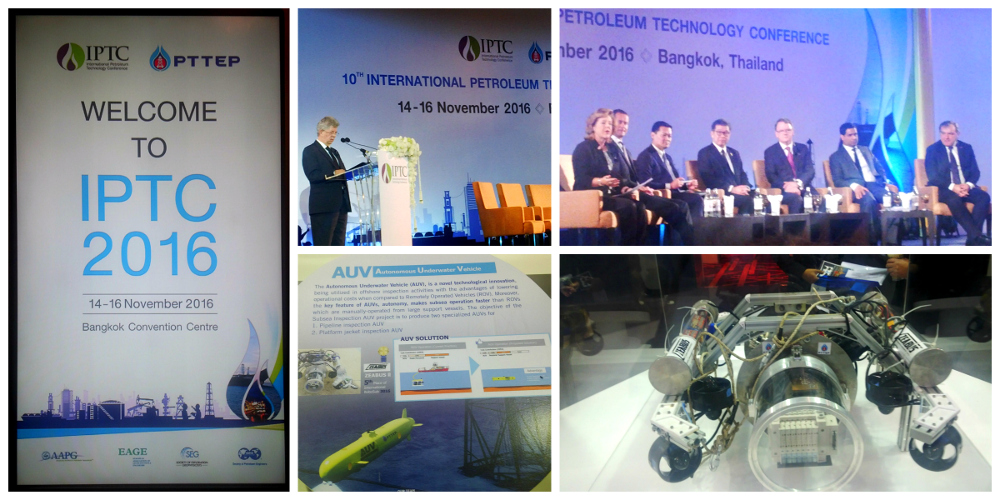 The 10th International Petroleum Technology Conference was held in Bangkok last week from 14 – 16 November 2016. A visit to the event at the Central World in Bangkok, revealed that the main players are still upbeat but adjusting to oil prices projection hovering at USD60/barrel.
Everyone is focused on short term goals that are to cut cost and promote efficiency which is translated by a slogan of 3 R; Reset, Reforecast and Renew.
The industry players such as Petronas, Mubadala, Woodside are acquiring tools that would allow them to achieve efficiency. Petronas saved USD1.4B by enhancing collaborations and contract sharing. Mubadala made efficiency as the survival mode while stretching the dollar to overcome cash asphyxiation. Schlumberger helped to make some project successful at current oil prices using technology integration.
The main players agree on the need for a paradigm shift in the way the industry shall use technology. They stressed that technology is key in industry efficiency and development be it in helping exploitation of discovery deemed thus far commercially not viable, exploration, improve chances of drilling success, enhance recovery, platform/well design and HSE/Environment and reduce time to make decisions.
All participants were made to understand that safety is the starting point to be in business and shall not be tagged with cost, efficiency and operation timelines. Although implementation needs innovative approaches.
Despite the industry's gloomy immediate future, the players are optimistic because they have gone through similar cycles in the past and know better days are ahead but most importantly investors start hinting that they would accept lower returns on their investment compared to historical high profits and thus will back up the petroleum industry.